Two types of navigation were used, celestial navigation and a process called dead reckoning.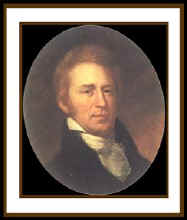 Celestial navigation is done with the use of a sextant, or octant, the horizon (if they could see it) or an artificial horizon (when they couldn't) and a very good watch called a chronometer.
Lewis or Clark would then use these instruments to measure the angle of the sun, or other celestial body from the horizon to find the latitude. Latitude is the distance north or south of the equator. To find the longitude or the lines of distance from east to west can be found by comparing local time with that of the Prime Meridian at Greenwich, England. Not an easy chore with a clock (chronometer) that has to be wound daily and error factor that needed to be calculated and reset, and observations of the sun at local noon.
Keep in mind this is a brief explanation of what is needed to mark latitude and longitude. There are many other calculations involved to zero in on the locations and adjust equipment.
The other type of navigation was dead reckoning, and William Clark became a master. Dead Reckoning is the process of estimating your position by advancing a known position using course, speed, time and distance to be traveled.
In other words figuring out where you will be at a certain time if you hold the speed, time and course you plan to travel. If you know your rate of speed and how long you have traveled, you can figure out how far you have come. S (speed) times T (time) divided by 60 (minutes) equals D (distance). Your formula is: Distance = Speed times Time divided by 60.
Now give it a try. If you are driving 60 miles per hour for one hour, how far have you driven? This is a very simple form of dead reckoning. Clark had to first plot a course, calculate speed, and adjust for other variations. Which was an incredible feat when you figure that they were only about 40 miles off in over 8000 miles of travel.