<< Scott Mandrell - Captain Meriwether Lewis

Drama teacher at Wydown Middle School in Clayton, Missouri and nationally recognized living history presenter, Scott acts as historical director and portrays Meriwether Lewis during the Lewis & Clark Bicentennial Re-enactment Voyage that commenced on January 14, 2003. Mr. Mandrell began his work with the Discovery Expedition of St. Charles in 1996 and has engaged in extensive primary research and field trials in preparation for Lewis and Clark re-enactment journey. Through his involvement with living history projects, Scott has worked in cooperation with the National Park Service, Illinois Historic Preservation Agency, Sons of the American Revolution, C-SPAN, Company of Fifers and Drummers, Brigade of the American Revolution, North West Territorial Alliance and numerous other historical societies. His unique combination of experience as a teacher and historic scholar are integral to the success of the project.
Join Scott Mandrell and Company on the Lewis and Clark Trail. >>
---

Craig "Rocky" Rockwell - Captain William Clark >>

Craig is known to his friends as 'Rocky,' lives in Clarkston, Washington. Craig is currently the Natural Resource Manager for the US Army Corps of Engineers.
Craig's involvement with the Lewis and Clark story began in 1980 with his first position as a Park Ranger for the Corps of Engineers. In 1998, as a way of bringing history to life, Craig began doing portrayals as Captain William Clark, wearing the most historically accurate Clark uniform in the country. He enjoys speaking to kids and adults alike -- in classrooms, at outdoor activities, at receptions and at more formal events. The Clark persona allows him a unique and fun opportunity to promote the bicentennial while teaching history.

---
<< Amy Mossett - Sacagawea

Amy Mossett is a member of the Mandan and Hidatsa tribes of Fort Berthold and lives in New Town, North Dakota. Amy has spent over a decade researching the life of Sacagawea, as well as the cultural history of the Mandan and Hidatsa tribes. Amy lives with her three daughters in North Dakota where they continue to learn about their traditional culture and history. Amy serves as Chairperson of the National Lewis and Clark Bicentennial Councilís Circle of Tribal Advisors. She is a graduate of Fort Berthold Community College, Minot State University and the University of North Dakota. She is currently the tribal liaison for the National Lewis and Clark Bicentennial Council.

---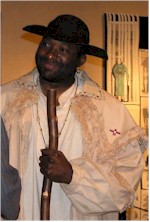 Hasan Davis- York >>
Since 1997, Hasan Davis has been bringing history alive. York, Black Explorer of the Lewis and Clark Expedition, is the second living history performance created by Hasan. York's story takes him from Enslavement into the greatest challenges that a person can face. In a race against nature and time York proved himself to be as capable and sometimes more capable than most of the able bodied volunteer of the Corp of Discovery. Hasan Davis is a living history performer, poet, storyteller and artist in residence using his talent for the written and spoken word to enhance his connection with the diverse communities he serves, and provide a context for considering, understanding and possibly resolving instances of stereotyping, prejudice and other divisive issues griping our communities.