WELCOME TO THE THOMAS JEFFERSON STATUE IN THE
JEFFERSON MEMORIAL BUILDING ~ MISSOURI HISTORY MUSEUM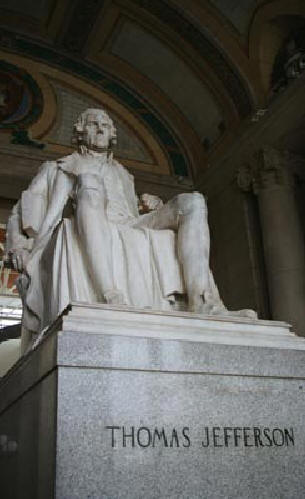 Designed by famed sculptor Karl Bitter and sitting at the heart of the Missouri History Museum, the marble statue was originally commissioned by the Louisiana Purchase Company as a lasting monument to the nation's third president.
Jefferson Memorial Building

The Jefferson Memorial Building, built from 1911 to 1913 with proceeds from the 1904 World's Fair (Louisiana Purchase Exposition), was the first national monument to President Thomas Jefferson. Built on the site of the main entrance to the World's Fair, the building commemorated Thomas Jefferson's role in the Louisiana Purchase. Thousands of St. Louis citizens stood within its loggia and on its lawn in 1913 and watched with delight as a grand parade concluded with the unveiling of Karl Bitter's marble statue of our country's third president.