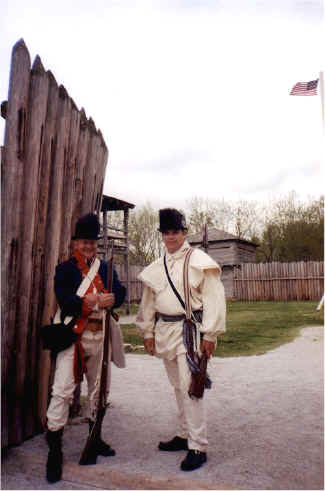 Today's Fort Osage is a reconstruction from the original plans.

The site was first noted by Lewis and Clark, as a likely spot for a fort:
" a high commanding position, more than 70 feet above high-water mark, and overlooking the river, which is here but of little depth." Clark
Step through the gate at Fort Osage and begin your walk through history. This reconstructed historic Fort, overlooking the Missouri River is portrayed as it was in 1812. Located the farthest west of the twenty-eight factories in the United States' trade system, Fort Osage functioned as one the first military outposts and government trade houses in the Louisiana Purchase.
Built in 1808, under the direction of William Clark as part of the vast federally controlled fur trade system, the Fort's mission was the maintenance of the political stability in the region through trade and military alliances with the Indian tribes, and in particular, the Osage Nation.
Fort Osage remained a part of the US Factory system until the whole Indian trade system was shut down in 1822. It remained a military storage facility in support of Ft. Atkinson, Nebraska until 1827, when both were closed upon the commencement of the construction of Ft. Leavenworth. (Source: Bob Dorian)