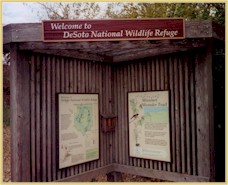 Exploring Opportunities
The 7,823 acre refuge offers fishing, boating, hunting, mushroom gathering, picnicking, four nature trails including one that is handicapped accessible, Bertrand excavation site, and a wildlife drive.
DeSoto Visitor Center provides a small theater, area for interpretive publications, viewing galleries overlooking DeSoto Lake, cultural and natural history exhibits, and the world- famous collection of cargo artifacts from the steamboat Bertrand that sank here in 1865.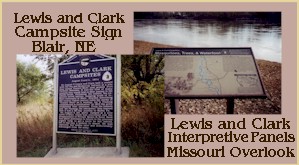 Lewis and Clark camped for the night near DeSoto Refuge's Lakeview Drive on August 3, 1804. In their journals, they made important observations about the DeSoto Bend area. They described willow, oak, hickory, sycamore and cottonwood trees; their first encounter with a badger; geese accompanied by their young; wood duck, "crains" of several kinds, and a flock of pelicans that appeared to cover several acres.
August 4, 1804, the Corps camped up river near the town of Blair, NE.
Source: Bruce E. Weber, Ph. D. Outdoor Recreation Planner DeSoto National Wildlife Refuge