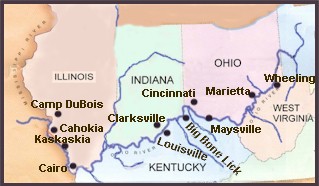 Cahokia Court House, Cahokia, IL: From December 1803 until the spring of 1804, Lewis and Clark used the Old Cahokia Courthouse as a headquarters for collecting information, meeting with territorial leaders, gathering supplies and corresponding with President Thomas Jefferson while the party camped at nearby Camp River Dubois.
107 Elm St, Cahokia, IL 62206-1014
---
Cahokia Mounds State Historic Site, Collinsville, Illinois. Cahokia Mounds is the site of the largest prehistoric Indian city north of Mexico. Although Lewis and Clark never visited Cahokia Mounds, there are some connections with the site. Learn more >>
---
Lewis & Clark Interpretive Center, Hartford, IL: At the Mississippi and Missouri Rivers, you'll ready yourself for your journey west. Explore the 55 foot keelboat, learn about camp life and prepare to depart into the unknown.
---
Lewis & Clark Confluence Tower, Hartford, IL: The Tower rises 180 feet with observations decks at 50, 100, and 150 feet that are accessible by both stairs and an elevator. These decks will provide visitors with a picturesque panorama of the confluence of the Missouri and Mississippi rivers to the West.
---
Godfrey, Illinois, "Sacagawea & Jean Baptiste Statue": A beautiful sculpture of Sacajawea graces the campus of Lewis and Clark Community College. The piece was crafted by sculptor Glenna Goodacre who also designed the image on the US Mint Sacagawea $1 coin.

Travel Notes: Southwestern Illinois has a diverse history and a wide range of attractions. For shoppers, Fairview Heights is the place to be-it's home to the largest shopping mall south of Chicago. For adventure lovers, Carlyle Lake, Illinois' largest man-made lake, is just a few miles away from the largest ancient American Indian site in the United States in Collinsville. Want more to explore for yourself? Check out the Gateway Geyser the WORLD'S TALLEST FOUNTAIN! Soaring to nearly 630-feet, the geyser's height mirrors that of St. Louis' famed Gateway Arch, located directly across the Mississippi River.