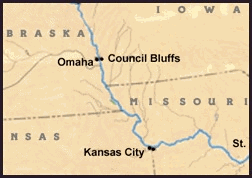 Atchison, Kansas - Independence Park
July 4, 1804: Lewis and Clark's Corps of Discovery celebrated the holiday in military fashion with a discharge of the swivel gun and an extra gill of whiskey. Read Travel Story >>
---
St. Joseph, Missouri - Was well known to early river travelers and was called St. Michael's Prairie. On July 7,1804 Lewis and Clark documented in their journal the flora & fauna in the St. Michael's Prairie. St. Joseph is also home of outlaw Jesse James.

Regional POI Map
---
Nebraska City, Nebraska – Missouri River Basin Lewis and Clark Interpretive Center. The focus of this exciting regional Missouri River Basin Lewis and Clark Interpretive Center is on the more than 300 discoveries of flora (178 plants), fauna (122 animals) and scientific discoveries made at President Thomas Jefferson's direction.


Timeline & Map PDF 720 KB
---

Bellevue, Nebraska - National Children's Lewis and Clark Interpretive Art Wall. The Art Wall is built on the peninsula just south of the boat ramp in Haworth Park, Nebraska. The artwork selected was from students in grades three through six in communities along the routes of the Lewis and Clark expedition. Each piece of artwork was reproduced on weatherproof tiles for permanent display on a sculptural art wall. Artwork is arranged geographically into seven regions, from Illinois to Oregon, interpreting the journey across the continent.
Plan your visit to the region >>
---
Omaha, Nebraska – Joslyn Art Museum - ( noted especially for its collection of art of the American West and is world-renowned for its collection of works by Swiss artist Karl Bodmer, whose watercolors and prints document his 1832-34 journey to the Missouri River frontier with the German naturalist, Prince Maximilian of Wied.
---
Omaha, Nebraska - Durham Western Heritage Museum ( used to be known as Union Station.) It was built by Union Pacific Railroad as a showpiece in the city of their headquarters in the classic art deco style. In its heyday, 64 trains and 10,000 passengers passed through Union Station every day.
---
Council Bluffs, Iowa – Western Historic Trails Center. On the banks of the Missouri River explore western history.
---
Council Bluffs, Iowa - Lewis and Clark Monument & Loess Hills Scenic Overlook. Expansive westward view of the Missouri River valley, mountain bike trail.
Whether you're planning a weekend getaway or a week-long vacation, LewisandClarkTrail.com is your online connection for Hotel Reservations. Still planning your trip? Check out the events calendar, read travel stories, then finish planning your trip by booking your hotel. LewisandClarkTrail.com invites you to locate the Hotel that meet your travel needs.