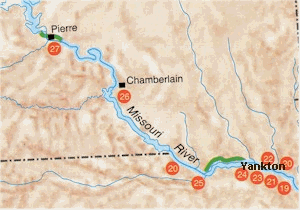 Timeline & Map with POI PDF 720 KB
The expedition spent most of September 7, 1804 digging for "barking squirrels" near this hill. Their hard work paid off with an animal that survived the trip all the way to Fort Mandan, then back down river to Washington DC for
President Jefferson
.
---
Fort Randall Area- Fort Randall Casino. Roll the dice or have lunch at the restaurant. Great Indian Tacos.
---
Chamberlain, South Dakota – Keelboat Visitor Center. Climb on board the 55 foot Keelboat that the Corps of Discovery traveled on as they explored the Missouri River. Experience breath-taking views from the stern of the keelboat. "Re-live" Lewis and Clark's journey with interpretive panels that explain the Corps traveling adventures through present day South Dakota.
---
Chamberlain, South Dakota - Akta Lakota Museum. The Museum is a tribute to the Sioux nation that offers visitors a rare and fascinating glimpse into the Lakota culture.
---
Chamberlain – Pierre – "Native American Scenic By Way". Highway 50 hugs the Missouri, beautiful overlooks and views.
---
Lower Brule, South Dakota - Buffalo Interpretive Center. The expansive site recalls the ancient prairies on which huge buffalo herds lived. The center is located on the western edge of a large pasture and is oriented so that the tribe's buffalo graze there in close viewing range.
---
Pierre, South Dakota – Bad Humor Island. Location where Lewis and Clark had a confrontation with Teton Sioux. The island mentioned is now named La Framboise Island and is connected to the city of Pierre with a causeway. Foot traffic only is allowed on the Island.
---
Fort Pierre, South Dakota – Verendrye Monument. French Canadian explorers Chevalier & Louis Verendrye buried a lead plate on March 30, 1743, while seeking a route to the Pacific Ocean. The Verendrye's expedition established France's unchallenged claim to the region for the King of France, which eventually lead to the Louisiana Purchase in 1803. The plate was un-earthed accidentally in 1913 by school children and is on display in the Cultural Heritage Center.
Whether you're planning a weekend getaway or a week-long vacation, LewisandClarkTrail.com is your online connection for Hotel Reservations. Still planning your trip? Check out the events calendar, read travel stories, then finish planning your trip by booking your hotel. LewisandClarkTrail.com invites you to locate the Hotel that meet your travel needs.
---