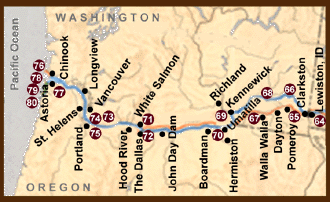 Highway 14: By action of the Washington State Legislature, the highway between Clarkston on the Idaho border and Ilwaco at the mouth of the Columbia River has been designated an official Lewis and Clark Trail Highway. Markers, as adopted by the Federal Lewis and Clark Trail Commission, have been erected intermittently along the route by the Washington State Department of Transportation.
Pasco, Washington - Sacajawea Interpretive Center.



Lewis and Clark in Oregon/Washington Map PDF, 731KB
---
Umatilla, Oregon – Hat Rock State Park. Hat Rock retains its name from Lewis and Clark and sits prominently in the park.
---
The Dalles, Oregon - Columbia Gorge Discovery Center. Your visit will take you back 40 million years.
---
Columbia Hills Park, Horsethief Lake State Park, Washington across from The Dalles, Oregon. Here the Corps camped, after running the "Narrows" and visited an Indian village. Several petroglyphs to view in the park including "She Who Watches".
Whether you're planning a weekend getaway or a week-long vacation, LewisandClarkTrail.com is your online connection for Hotel Reservations. Still planning your trip? Check out the events calendar, read travel stories, then finish planning your trip by booking your hotel. LewisandClarkTrail.com invites you to locate the Hotel that meet your travel needs.