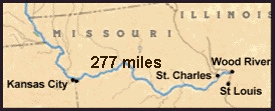 St. Louis, Missouri – Gateway Arch – The Gateway Arch is the tallest man-made monument in the Western Hemisphere. At 630 feet, the Arch is 75 feet taller than the Washington Monument and over twice as tall as the Statue of Liberty. Take the tram ride to the top for a birds-eye view.
Tram Ride Notes: While at the top, look east to view the Gateway Geyser, The World's Tallest Fountain.
St. Louis, Missouri - Jefferson National Memorial Museum of Westward Expansion - Beneath the Gateway Arch you will discover the incredible journey of Lewis and Clark, Native American history, PLUS view the largest collection of peace medals on display in the world.

St. Louis, Missouri - "Captain's Return" a twice life sized statue of Lewis and Clark to honor the 200th anniversary of their return was dedicated on September 23, 2006. Thomas Jefferson marble statue located in the Jefferson Memorial Building. This was the first national monument to President Thomas Jefferson
St. Louis, Missouri - Forest Park - The terminology "Forest Park" means this beautiful park in the midst of the city. On a smaller scale than Central Park in New York City, Forest Park is one of the top 5 parks in the United States. More than 12 million residents and visitors to St. Louis each year visit the jewel of St. Louis, Forest Park. Forest Park was the host site of the 1904 World's Fair The park epitomizes the diverse recreational, cultural and historical attractions.



Forest Park map including featured sculptures and history PDF 491KB

St. Louis, Missouri - Bellefontaine Cemetery - Williams Clark's final resting place -- Read Travel Story >>
---
St. Charles, Missouri - Lewis & Clark Boat House and Nature Center along the Missouri River. The facility features exhibits relating to the Lewis and Clark expedition, historic St. Charles, and the Missouri River ecosystem. When not on the river, the Discovery Expedition's hand-crafted replica boats are on display on the building's lower level.
St. Charles, Missouri - Lewis, Clark & Seaman Monument in Frontier Park along the Missouri River. The monument was dedicated on May 18, 2003.
St. Charles, Missouri - Historic South Main Street. Founded in 1769 by French Canadian Louis Blanchette, St. Charles is the oldest town on the Missouri River. South Main is the largest designated Historic District in the state of Missouri featuring 88 restored buildings dating from 1790 to the late 1800s. As you walk along South Main you will see a variety of architectural styles including French Colonial, Federal and new blend of architecture flavored with French and German influences.
Plan your visit to St. Charles >>
---
Defiance, Missouri – Home of Daniel Boone. The legendary frontiersman was living here when Lewis and Clark passed through, however there is no record of them meeting.
---
Jefferson City, Missouri – Capitol of Missouri. Jefferson Landing, one of the few remaining 19th-century river-front landings on the Missouri River. Commemorative statues located on Capitol Complex - Thomas Jefferson and Louisiana Purchase.
---
Arrow Rock, Missouri - Arrow Rock State Historic Site. Corps of Discovery passed Arrow Rock site on June 9, 1804. Native Americans gathered flint from Arrow Rock, hence the name was given.
---
HALF WAY POINT (Between St. Louis, Missouri and Kansas City, Missouri)
BOONVILLE, MISSOURI
Boonville, Missouri (oldest existing town west of St. Charles)
Harley Park, located on the bluffs of the Missouri River, was established in August of 1887. In the park are four Central Mo. Hopewell (Middle Woodland Period) Indian burial mounds dating from 100 B.C. to 500 A.D.
Boonville, Missouri, United States
---
Sibley, Missouri – Fort Osage. The site was first noted by Lewis and Clark, as a likely spot for a fort. Clark said in his journal, " a high commanding position, more than 70 feet above high-water mark, and overlooking the river." Four years later, Clark returned to design and build this outpost, which remained until 1818.
Independence, Missouri – Home of Harry Truman. National Frontiers Trail Center interprets four historic Trails; Lewis and Clark, Santa Fe, California & Oregon.
---
KANSAS CITY, MISSOURI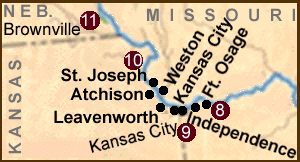 Clark's Point - Lewis and Clark Sculpture - When Lewis and Clark stopped at this spot on September 15, 1806, atop a high bluff with a sweeping view of the Missouri River Valley, they noted that the site offered a "commanding situation for a fort." Today, this spot is in downtown Kansas City - Clark's Point. The sculpture depicts Lewis, Clark, York, Seaman, and Sacagawea holding her baby Jean Baptiste. Eugene Daub, one of America's leading figurative sculptures, created the work.
Kansas City - More fountains than Rome? It is believed that there are more "working" fountains in Kansas City than anywhere in the world! Their claim rests not only in the quantity, but in the variety of styles and century-long dedication to this art form. Kansas City Fountains are located around the city: North, Northeast, Downtown, Central, Midtown, Country Club Plaza, Southeast, Southwest, Swope Park, and the Stadium.
Country Club Plaza - Built in 1922, the Country Club Plaza is one of this country's architectural and cultural treasures. It was designed as America's first shopping center. But today it's much more than that. The Plaza is a virtual outdoor museum with over $1 million in art work found in its monumental fountains and over 30 statues and tile-laced murals. Every street on the 14-square block Plaza is worthy of an attentive stroll. The district's streets and sidewalks have been transformed over the years into a true outdoor art gallery, with priceless pieces shipped in from around the world. FREE Walking Map available from the Plaza Merchant's Association at 450 Ward Parkway, (816) 753-0100.
4745 Central St, Kansas City, MO 64112-1533
Whether you're planning a weekend getaway or a week-long vacation, LewisandClarkTrail.com is your online connection for Hotel Reservations. Still planning your trip? Check out the events calendar, read travel stories, then finish planning your trip by booking your hotel. LewisandClarkTrail.com invites you to locate the Hotel that meet your travel needs.