Via 1806 Route - Yellowstone River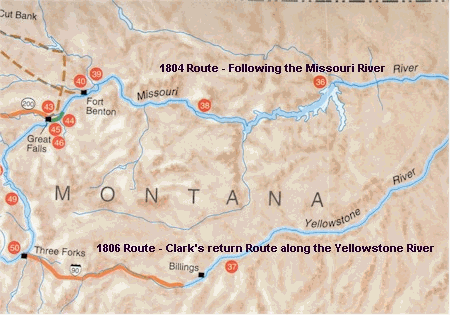 <![if !vml]>

<![endif]>

Glendive, Montana- Makoshika State Park (is a natural badlands area of sandstone rock). At the Park Visitor Center view a triceratops dinosaur skeleton and a 65 million-year-old prehistoric paddlefish. More information call: 406 - 377-6256.
Makoshika State Park (state park), Montana, United States
---
Miles City, Montana – Range Riders Museum. Miles City is the Cow Capitol of Montana and the guardian of the past is the Range Riders' Museum, a highlight for Western buffs! Complex is set on the original site of Fort Keogh cantonment. Includes Bert Clark Gun Collection, Memorial Hall, Fort Keogh's Officers Quarters, Heritage Center, and an original log cabin. For more information call: 406-232-6146.
59301
---
Rosebud, Montana – Clark and his exploration party passed this area on July 28, 1806. The party was thankful to be back in the "Fat Plains" where buffalo were numerous and they lived "high" on buffalo meat. In the 1860's – 70's buffalo hunters took over 40,000 robes from this area and shipped them out by river boat. The slaughter disrupted eastern Montana's Indian culture and precipitated several years of bloody confrontation, culminating in the Battle of Rosebud on June 17, 1876 (near Busby) and the Battle of Little Big Horn eight days later.
---
Billings, Montana – Pompeys Pillar (28 miles east of Billings). Captain William Clark writes in his journal on Friday, July 25, 1806; " I marked my name and the day of the month and year." This inscription is one of the surviving on-site physical remains of the Lewis and Clark Expedition. Clark named this rock Pompy's Tower. Pompy was Clark's nickname for young Baptiste Charbonneau whose mother, Sacagawea, was the party's interpreter. Pompy means "little chief" in the Shoshone language.
Whether you're planning a weekend getaway or a week-long vacation, LewisandClarkTrail.com is your online connection for Hotel Reservations. Still planning your trip? Check out the events calendar, read travel stories, then finish planning your trip by booking your hotel. LewisandClarkTrail.com invites you to locate the Hotel that meet your travel needs.