1050 S Riverside Dr, Saint Charles, MO 63301-3481
Bishop's Landing

Call: 636-947-3199
WELCOME TO THE LEWIS & CLARK BOATHOUSE AND NATURE CENTER

The new Lewis & Clark Boat House and Nature Center is the Discovery Expedition's permanent home. Situated beside the Missouri River at Bishop's Landing in charming historic St. Charles, Missouri, the educational facility features exhibits relating to the Lewis and Clark expedition, historic St. Charles, and the Missouri River ecosystem.
When not on the river, the Discovery Expedition's hand-crafted replica boats will be on display on the building's lower level, where they can be easily removed during floods. The building's flow-through design will permit the flood waters to pass through the open lower level without damage to the structure or the museum on the upper level.
On the upper level, the contents of the former Lewis & Clark Center (a certified site on the Lewis & Clark National Historic Trail) are displayed along with many new exhibits. The new facility has a classroom to accommodate our many class field trips, elderhostel groups, and tours. In addition, there will be ongoing living history demonstrations.
FRONTIER PARK ALONG THE MISSOURI RIVER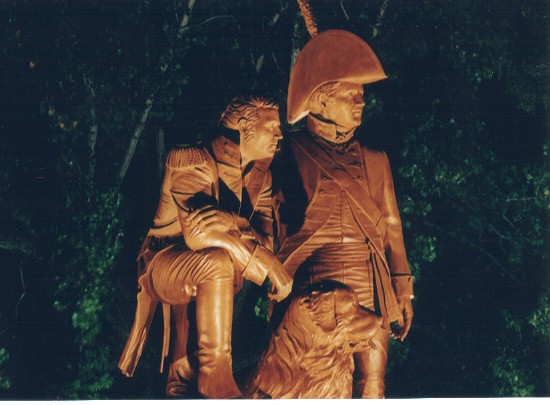 The dedication ceremony for the Lewis & Clark monument was on May 18, 2003,
by artist Pat Kennedy. Frontier Park is adjacent to the Lewis and Clark Boathouse and Nature Center.
Whether you're planning a weekend getaway or a week-long vacation in
St. Charles, Missouri,
LewisandClarkTrail.com is your online connection for hotel reservations.
Know where you want to go? Search for the hotel rooms.
Still planning your trip? Find events on the LewisandClarkTrail.com events calendar, read travel stories and then finish planning your trip by booking your hotel and making hotel reservations at LewisandClarkTrail.com.
Locate the hotel that meets your travel needs.