The Rivers of Lewis and Clark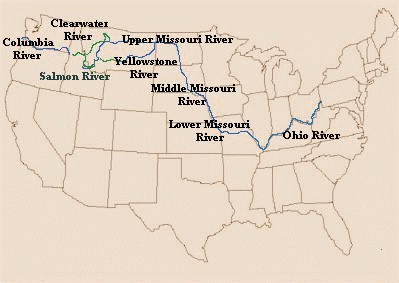 The Missouri River headwaters are the Three Forks, Gallatin, Madison, and Jefferson Rivers in Montana and flow into the Mississippi River at St. Louis.
DID YOU KNOW? The Missouri River is the longest river in the United States at 2,540 miles. The Mississippi River is second at 2,340 miles.
The Salmon River: The Salmon River, dubbed the "River of No Return", remains one of the few remaining free-flowing waterways in America and flows for 425 miles from the headwaters in central and eastern Idaho mountains. Salmon River Reconnaissance by Captain Clark on August 19, 1805
The Clearwater River & Lochsa River: Flows along US highway 12. The Lolo Trail, route traveled by Lewis and Clark in 1805 & 1806, parallels Highway 12 along the upper ridges.
The Snake River: 1,040 miles long, chief tributary of the Columbia River. Was named Lewis' River on
October 10, 1805. View map >>
The Columbia River: Flows for more than 1,200 miles, from the base of the Canadian Rockies in southeastern British Columbia to the Pacific Ocean at Astoria, Oregon, and Ilwaco, Washington. On October 16, 1805, Lewis and Clark entered the waters of the Columbia.
The Yellowstone River: The longest undammed river in the contiguous United States, retains most of its natural habitat characteristics and flows. 554 miles long from the Wyoming boundary to the North Dakota boundary. William Clark explored the Yellowstone in 1806.
Lewis N Clark Uncharted Duffel Bag 900D/Zipper