DISCOVER THE RIVERS OF LEWIS AND CLARK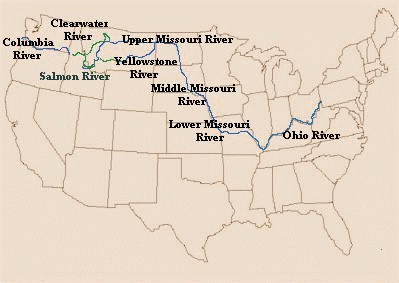 Whether you're planning a weekend getaway or a week-long vacation, LewisandClarkTrail.com is your online connection for Hotel Reservations. Still planning your trip? Check out the events calendar, read travel stories, then finish planning your trip by booking your hotel. LewisandClarkTrail.com invites you to locate the Hotel that meet your travel needs.

The Missouri River: Begins at the Gallatin, Madison, and Jefferson Rivers in Montana, to the Mississippi River, at St. Louis. On May 14, 1804, the Corps of Discovery began their journey up the Missouri River.
DID YOU KNOW? The Missouri River is the longest river in the United States at 2,540 miles. The Mississippi River is second at 2,340 miles. Read more >>
The Clearwater River & Lochsa River: Flows along US highway 12. The Lolo Trail, route traveled by Lewis and Clark in 1805 & 1806, parallels Highway 12 along the upper ridges.