SAKAKAWEA IN NORTH DAKOTA
The twelve-foot-high bronze statue depicts Sakakawea looking westward, with her infant son strapped on her back. Dedicated in 1910 on the grounds of the state capitol in Bismarck at the entrance to the North Dakota Heritage Center.
The statue is by Leonard Crunelle (1872–1944), who was born in France and emigrated to United States in 1882. His model for Sakakawea was Mink Woman, from the Fort Berthold Indian Reservation in North Dakota.
612 E Boulevard Ave, Bismarck, ND 58505-0660
For additional information contact:
State Historical Society of North Dakota
Bismarck, North Dakota 58505
Or Call: 1 - 701- 328-2666
SAKAKAWEA'S JOURNEY TO WASHINGTON D.C.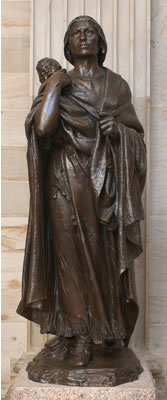 SAKAKAWEA at
The National Statuary Hall United States Capitol
North Dakota's Presentation of the Statue of Sakakawea to the U.S. Capitol National Statuary Hall provides the history of the statue, biographical information on Sakakawea, and the proceedings of the event.
The replica was displayed in North Dakota before it was transported to Washington, D.C. Learn More >>