WELCOME TO FORT UNION TRADING POST
NATIONAL HISTORIC SITE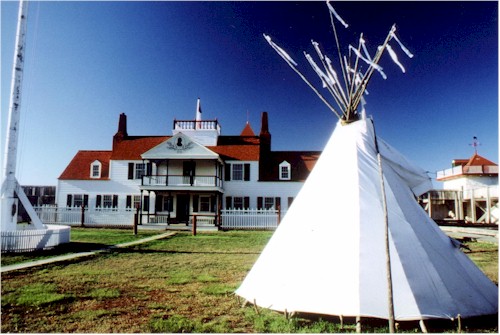 Photos: ND Tourism Department
April 1805, the captains noted in this area where the Yellowstone River joins the Missouri would be an excellent spot for a trading post. In 1829, Fort Union was constructed near the confluence of rivers and quickly became the top fur-trading post on the upper river. The fort has been reconstructed, and the once -elegant Bourgeois House is now a visitor center.
Fort Union Trading Post was established in 1828 by the American Fur Company. It was not a government or military post, but a business, established for the specific purpose of doing business with the northern plains tribes. This trade business continued until 1867 making it the longest lasting American fur trading post.

The fort had visits from various people who became well known during the fur trade period. Names like, George Catlin, Karl Bodmer, John James Audubon and prince Maximilian. Tribal leaders came from many of the nations that traded here at Fort Union as well. A variety of jobs by skilled workers made up many of the duties done at here.

The people, places and stories are a large part of the make up when looking at Fort Union during its historic period. With the help of local citizens and agencies, the site was acquired by the National Park Service in 1966. After three archaeological projects, reconstruction of the bourgeois house was completed in 1987, followed by the walls and bastions in 1989 and finishing the trade house in 1991.
DID YOU KNOW?

Fort Union was built specifically for the Assiniboine tribe at their request. The land that Fort Union sat on was Assiniboine territory and the Assiniboine people looked on Fort Union with protective eyes, helping keep it safe from the occasional hostilities that would erupt with other groups.
Whether you're planning a weekend getaway or a week-long vacation in Williston, North Dakota, LewisandClarkTrail.com is your online connection for hotel reservations.
Know where you want to go? Search for the hotel rooms.
Still planning your trip? Find events on the LewisandClarkTrail.com events calendar, read travel stories and then finish planning your trip by booking your hotel and making hotel reservations at LewisandClarkTrail.com.
Locate the hotel that meets your travel needs.