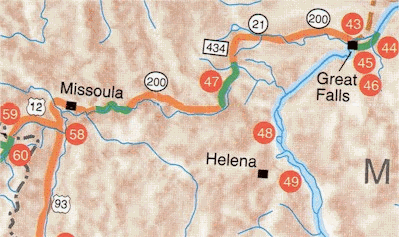 Highway 200 tracks across the country that Lewis first crossed ( 1806)
-
"The prairie of the knobs".
On July 6, 1806, Lewis' exploration party crossed "the prairie of the knobs" and Lewis identified the path they were following as a warpath of the Hidatsa. They passed the remains of many Indian lodges, and crossed the Continental Divide at Lewis and Clark Pass, and the next day saw the
first buffalo
since entering the mountains a year earlier.
Garnet Ghost Town - Montana's Best-Preserved Ghost Town. To walk the streets of this ghost town is to step back in time, free from intrusions of modern society. Turn south at the Garnet Range Road located between mile markers 22 and 23, about 30 miles east of Missoula.
---
Missoula, Montana- Traveler's Rest Camp. Lewis and Clark's westbound & eastbound journey included a rest at this spot, south of Missoula.
Missoula, Montana -Smokejumper Visitor Center. Largest active smokejumper base in the nation.
Whether you're planning a weekend getaway or a week-long vacation, LewisandClarkTrail.com is your online connection for Hotel Reservations. Still planning your trip? Check out the events calendar, read travel stories, then finish planning your trip by booking your hotel. LewisandClarkTrail.com invites you to locate the Hotel that meet your travel needs.