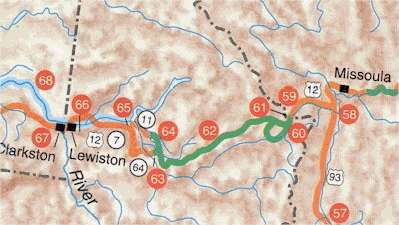 Field Notes: On September 11, 1805 Lewis and Clark left "Travelers Rest" with their Shoshone Guide "Old Toby". The route they followed was an old buffalo trail known to the Nez Perce people as "K'useyneisskit". The trek across the Bitterroot Mountains began one of the most demanding and difficult legs of their journey.
US Highway 12 - Idaho parallels the "Historic Lolo Trail". Please note that the Historic Lolo Trail is a rough gravel road. Several scenic points along Highway 12 point out areas of interest to the Lewis and Clark expedition. Read Travel Blog>>
---
Kamiah, Idaho – Heart of the Monster located in Nez Perce National Historical Park
A rock formation said to represent the heart of a monster in an important Nez Perce legend is located in East Kamiah. This site was a major prehistoric and historic Nez Perce crossing point of the Clearwater River.
Nez Perce National Park Visitors Guide & MAP
---
Spalding, Idaho - Nez Perce Cultural Museum. Lewis and Clark first encountered the Nez Perce on September 20, 1805. Nez Perce tradition says that they first considered killing the members of the Corps of Discovery but were persuaded by a woman who first met white men while a prisoner of Indians in Canada and was kindly treated by them.
---
Lewiston, Idaho - The Lewis and Clark Discovery Center. Features indoor educational displays, a two acre outdoor interpretive plaza along the banks of the Snake River and a beautiful moving stream with sculptures by Artist Rip Caswell. See an original 32 minute film produced From the mountains to the sea; Lewis and Clark in Idaho. For more information: 208 -799-5015.
5100 Hells Gate Rd, Lewiston, ID 83501-5679
---
- Alpowai Interpretive Center/Chief Timothy State Park.
The park is located on the site the Alpowai encampment of the Nez Perce Indian Tribe. It was the home of Chief Timothy, who was a trusted friend of the early settlers in the area. The Alpowai Interpretive Center is built near the original site of the village that existed in the mid 1800's.
Whether you're planning a weekend getaway or a week-long vacation, LewisandClarkTrail.com is your online connection for Hotel Reservations. Still planning your trip? Check out the events calendar, read travel stories, then finish planning your trip by booking your hotel. LewisandClarkTrail.com invites you to locate the Hotel that meet your travel needs.