Gettysburg - Pittsburgh, PA (via Harpers Ferry, West Virginia) 260 miles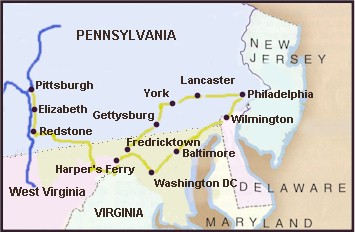 POINT OF INTEREST: Harpers Ferry, West Virginia Harpers Ferry National Historical Park
POINT OF INTEREST: Elizabeth, PA - In 1803, Lewis apparently had his first two pirogues built here. Visit the Monongahela River, which flows from West Virginia into western Pennsylvania. The headwaters of the Monongahela River are at the confluence of the Tygart and West Fork rivers at Fairmont, West Virginia. The river joins with the Allegheny River in Pittsburgh, Pennsylvania, to form the Ohio River.
Pittsburgh, PA- On July 15, 1803, Lewis experienced great delays in getting the keelboat built and did not leave until August 31, 1803.
POINT OF INTEREST: Visit the Carnegie Museum of Natural History.