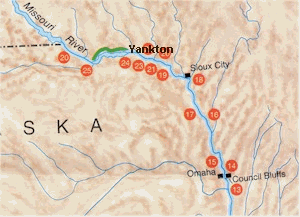 Timeline & Map with POI PDF 720 KB
Fort Calhoun, Nebraska -Fort Atkinson State Historical Park. Lewis and Clark held their first council, in the newly purchased Louisiana Territory with Otoe and Missouri Indians on August 3, 1804. Clark also reported that the site was ideal for a fort, Fort Atkinson was constructed in 1820.
---
Missouri Valley, Iowa - DeSoto National Wildlife Refuge. In Lewis and Clark's journals, they made important observations about the DeSoto Bend area. They described willow, oak, hickory, sycamore and cottonwood trees; their first encounter with a badger; geese accompanied by their young; wood duck, "crains" of several kinds, and a flock of pelicans that appeared to cover several acres.
---
Onawa, Iowa - Lewis and Clark State Park. Floating replica of the Lewis and Clark Keelboat is on display at the park.
---
Field Notes: Floyd was introduced to Meriwether Lewis and the Expedition during their stop in the Louisville, Kentucky area in October 1803. He enlisted into the Army in October 1803. Floyd finished the trip down the Ohio River and up the Mississippi River to the wintering area at Camp Wood River/Camp Dubois, 1803-1804. He was approved as a Sergeant on April 4, 1804 by the Captains and took command of the Second Squad. Sergeant Floyd died due to an apparent ruptured appendix.
Sioux City, Iowa - "Lewis and Clark: An American Adventure". One-of-a-kind mural exhibit consisting of the most extensive collection of original, Lewis and Clark canvas paintings to date. Comprised of 38 different mural scenes, this exhibit takes you through the 8,000 mile Expedition from start to finish.
Sioux City, Iowa – Sergeant Floyd Memorial. The 100 ' high stone obelisk memorializes Sgt. Charles Floyd. The bones of Sergeant Floyd were placed in urns and then placed in the concrete core.
Sioux City, Iowa - Sergeant Floyd Welcome Center/Riverboat Museum and Lewis and Clark Interpretive Center.
---
Entering the Missouri National Recreational River ~ A National Park

TRAVEL NOTE: The Missouri National Recreational River Visitor Center is located in Ponca, Nebraska along with Towers of Time Monument Learn More >>

South Dakota Detailed Driving Map (PDF) >>
Field Notes: National Geographic filmed the footage for IMAX film "Lewis and Clark - Great Journey West" along this stretch of the Missouri River. This location was selected because of its pristine beauty.
Read more >>
Elk Point, South Dakota - Lewis and Clark recognized the necessity to select a leader, to replace Sgt. Floyd, who expired near Sioux City, Iowa. It was determined to leave the choice to the men. Therefore, the first primary election west of the Mississippi River took place that evening around a campfire. The three nominated, William Bratton, Patrick Gass, and George Gibson anxiously awaited as the ballots were counted. Captain Lewis announced that Patrick Gass received 19 votes (majority) and was duly elected. Community celebrates their Lewis and Clark Heritage on the 3rd week-end in August.
---
Field Notes: On August 25, 1804, a hot, humid Saturday, Captains Lewis and Clark took 9 men and Lewis' dog Seaman; crossed the Missouri from their camp and walked nine miles to the Mound.
Vermillion, South Dakota – Spirit Mound. The little hill known by the Sioux as Paha Wakan was held in awe by tribes for miles around. The Omaha, Sioux, and the Otoes believed that the mound was occupied by spirits that killed any human who came near.
Vermillion, South Dakota – Spirit Mound Learning Center
---
Yankton, South Dakota – Calumet Bluff. Lewis and Clark had their first meeting with the Sioux Nation upon this bluff. Good relationships were developed and Lewis and Clark stayed with the Yanktons for 3 days.
Suggested Regional Day Trips/Tours around Yankton

Shannon Trail - 240 miles

National Scenic By-Way - 123 miles
Three Bridges - 200 miles
Dam to Dam - 139 miles
Whether you're planning a weekend getaway or a week-long vacation, LewisandClarkTrail.com is your online connection for Hotel Reservations. Still planning your trip? Check out the events calendar, read travel stories, then finish planning your trip by booking your hotel. LewisandClarkTrail.com invites you to locate the Hotel that meet your travel needs. y.