SEAMAN - LEWIS' NEWFOUNDLAND DOG
(You are here)
Lewis purchased the Newfoundland dog for $20.00 in 1803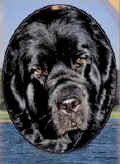 Manís best friend accompanied the expedition and alerted the
Discovery Team of unexpected guests.
From the Journals of Meriwether Lewis:
April 22, 1805 : " walking on shore this evening I met with a buffaloe calf which attached itself to me and continued to follow close at my heels untill I embarked and left it. It appeared allarmed at my dog which was probably the cause of itís so readily attaching itself to me"


Map PLUS Lewis and Clark timeline of region (PDF)
May 29, 1805: Some were curious "last night we were all allarmed by a large buffaloe bull, when he came near the tent, my dog saved us by causing him to change his course"
June 27, 1805 :" a bear came within thirty yards of our camp last night and eat up about thirty weight of buffaloe suit which was hanging on a pole, my dog seems to be in a constant state of alarm with these bears and keeps barking all night"
As the Corps explored the Louisiana Purchase, Lewisí dog was quickly adopted by the crew and became known as "Our Dog".
Statues Featuring "Seaman" the Discovery Dog on the Lewis and Clark Trail

St. Louis, Missouri

Jefferson City, Missouri on the Missouri State Capitol Grounds
Fort Atkinson State Historical Park, Fort Calhoun, Nebraska
Lewis and Clark Interpretive Center, Sioux City, Iowa

Washburn, North Dakota at the Lewis and Clark Interpretive Center

Overlook Park, Great Falls, Montana
Fort Clatsop National Memorial
Seaside, Oregon
For many years the name of the dog was thought to be "Scannon". While deciphering the travel journals of Lewis and Clark a mistake was made because of the blurred ink. It was this error that influenced many Newfoundland dog owner to name their Newfs, Scannon. Then while researching the journals Donald Jackson was doing a study of Lewis and Clark place-names in Montana, he found that Captain Lewis, had named a tributary of the Blackfoot River "Seamanís Creek." After further study he found that the true name of the dog was indeed "Seaman". This discovery didnít happen until 1916 so there are many Newfoundland dogs that were named Scannon in honor of the Lewis and Clark Expedition. Learn more about the Newfoundland breed>>
---
Lewis & Clark's Corps of Discovery ate over 200 dogs while traveling the Lewis and Clark Trail? However, Lewis' Newfoundland dog - SEAMAN- was spared.
---